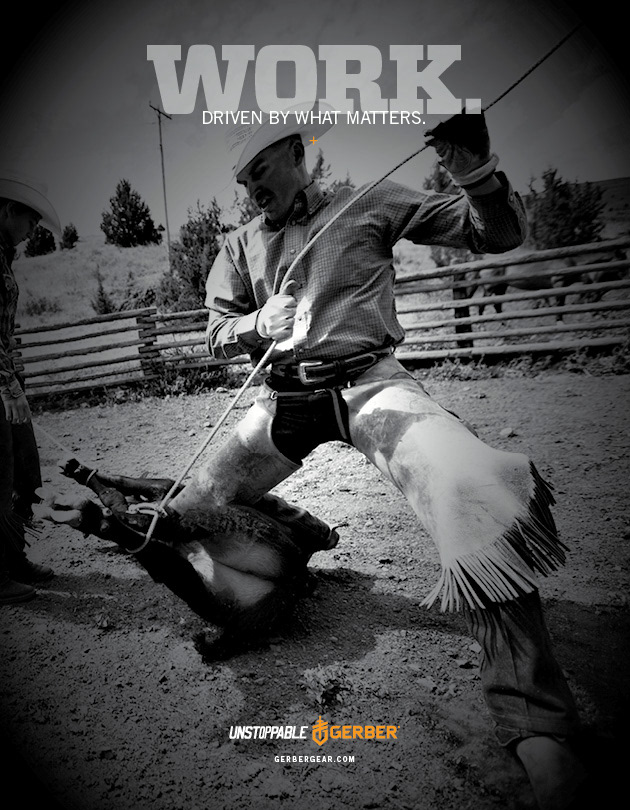 My parents grew up in rough and tumble Klamath Falls, Oregon in the 50s and 60s. Both grew up on farms, and my mom was a trick-riding rodeo queen as a teenager. This may have been for Gerber but I was thinking about the folks when I edited this photo and set this type. Rope that sucker!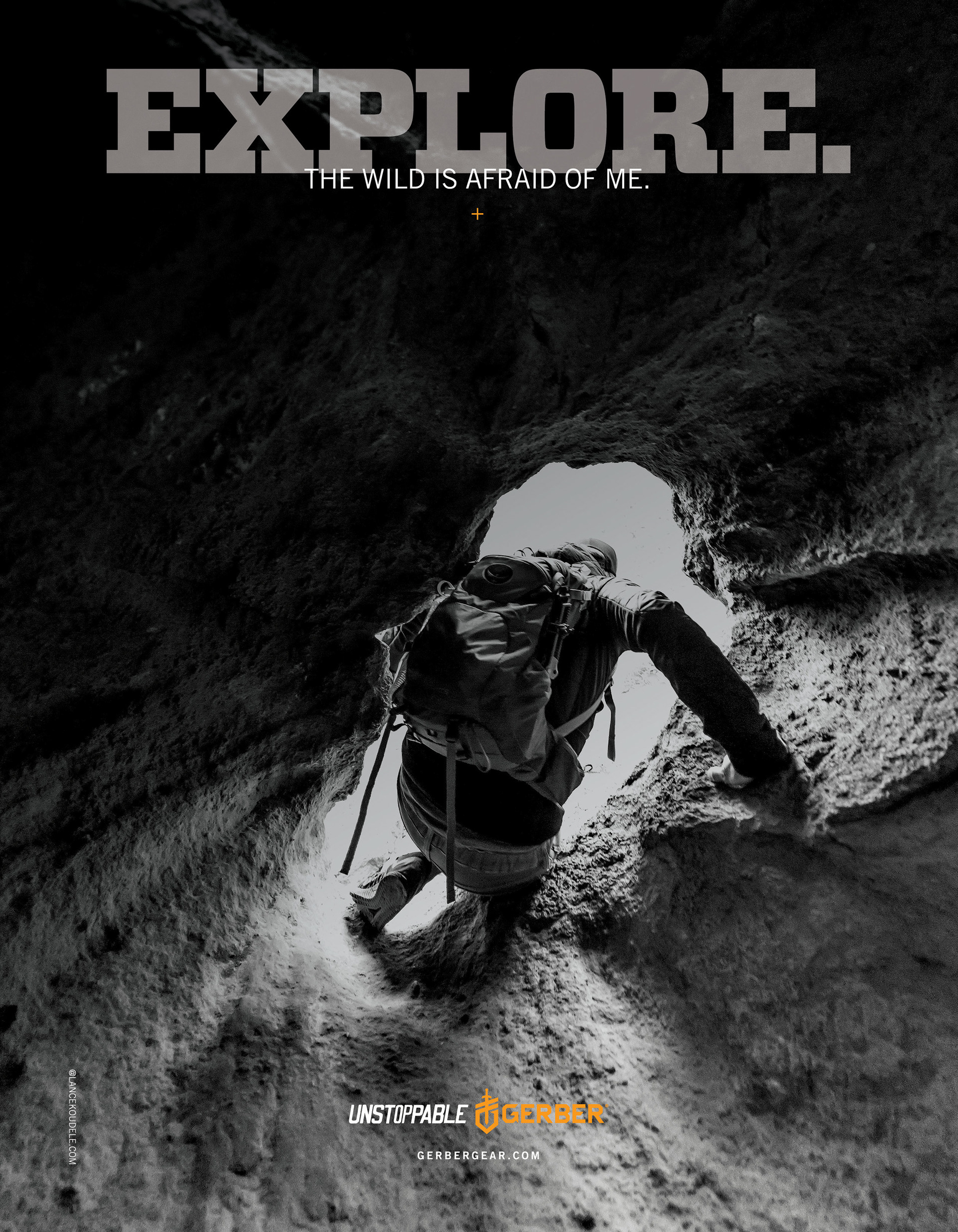 Not everyone knows this is Gerber Creative Director Todd Bischoff peering into the abyss just off camera. This photo provided a lot of mileage for the "Explore" product category. Photo by Lance Koudele.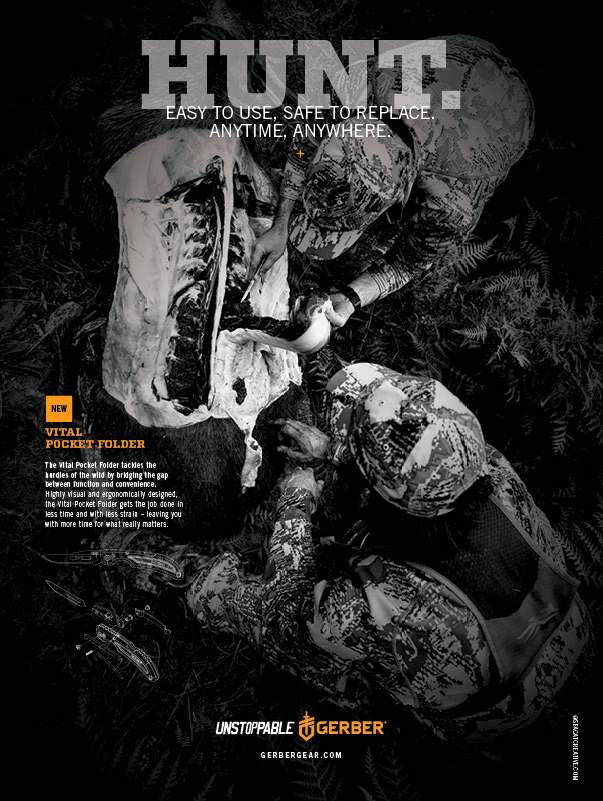 This ad was for a specific hunting publication. We pitched two versions, a "safe" image, and this one that myself and Creative Director Todd Bischoff preferred for its provocative full-view of game dressing, blood and guts and all. The safe one got the green light, but I still like this better—it shows exactly what the knife is for. It's not spreading butter, people!
We used this photo quite a bit, first in color and later in the black and white version here that I really like. Taken by my designer co-worker Erika Reesor. A Gerber sales exec was the model. 
SHOT Show: Experience Innovation
I executed this design from a sketch by my superior(s). They gave me pretty free reign with the headline typography as we had yet to decide on a more permanent brand headline approach. While we didn't continue with this style, it served us that year very well.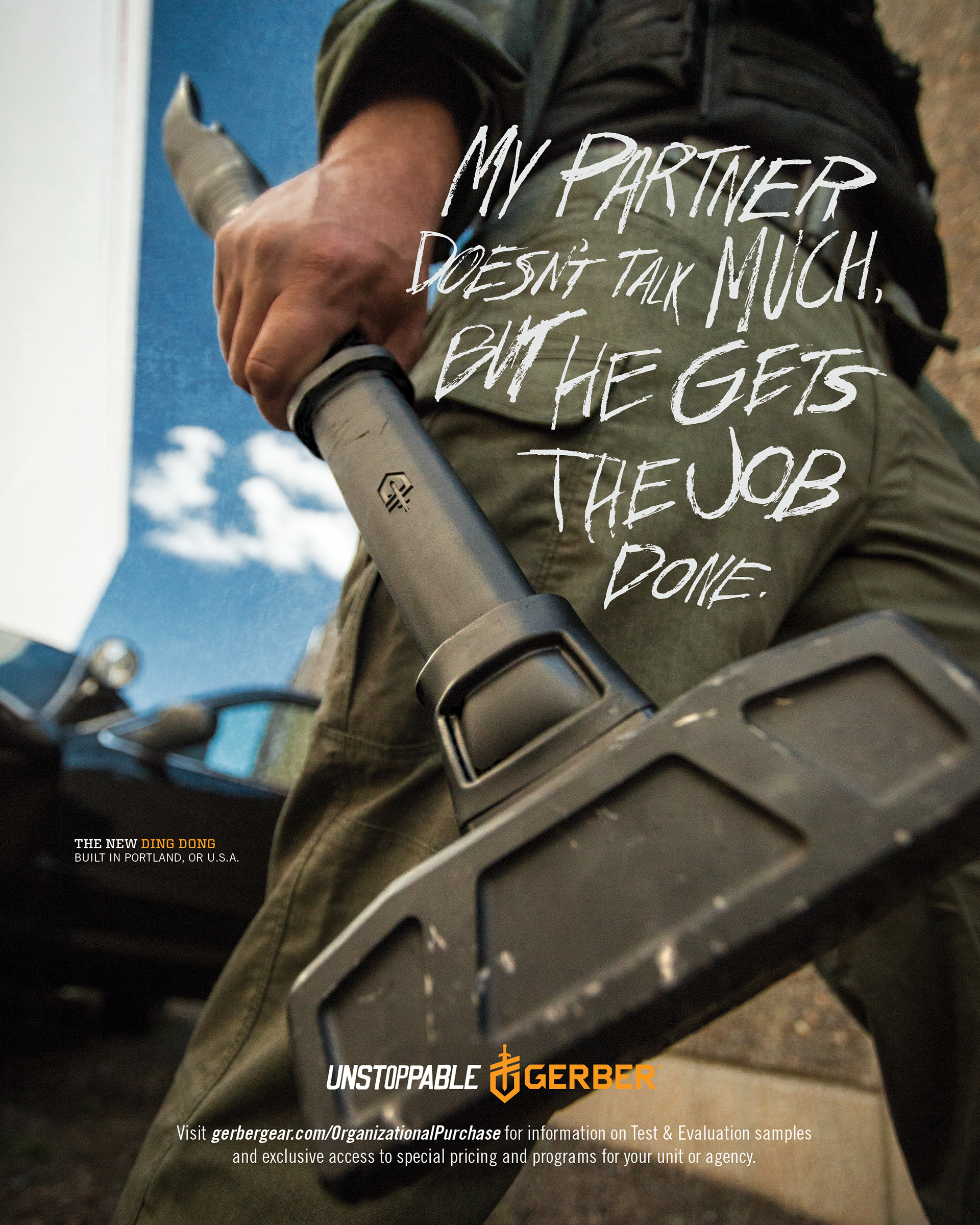 This was one of the earliest ads I did for Gerber, and started me on the path of being the primary designer for their print ad work. I also was really proud that I beat out the copywriter in a marketing group brainstorm session for the final tagline here. This same tagline I then hand-lettered on paper with brush and India ink, scanned and optimized for the final mechanical. Nothing like hand-writing your own words for your printed piece. 


Creative Brief: Andrew Gritzbaugh, VP Marketing
Creative Direction: Todd Bischoff, Global Creative Director
Copy: Debbie Garrison, Copywriter
Photo: Erika Reesor
Tagline Copy/Designer: Aaron Alexander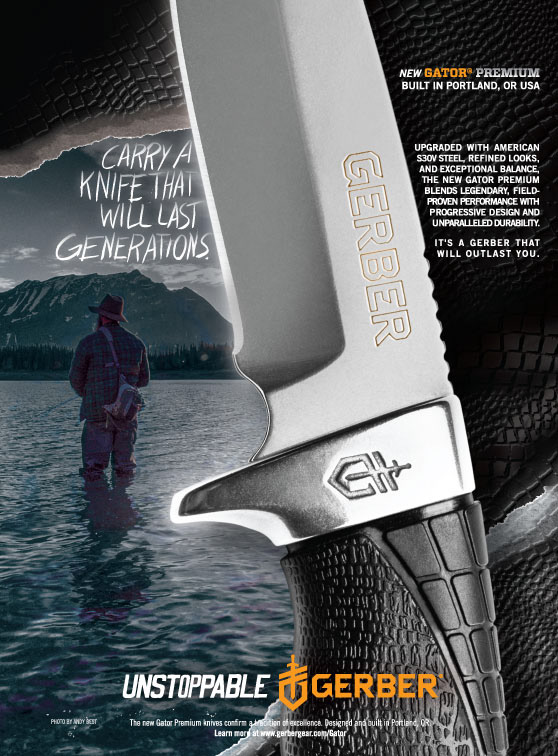 My co-worker/friend who grew up fly fishing with his dad told me that his father saw this when it ran in Fly Fisherman magazine. That was the first time I felt like my work was "out there." This was also one of my earliest print advertising assignments at Gerber.